Where Quantity is Quality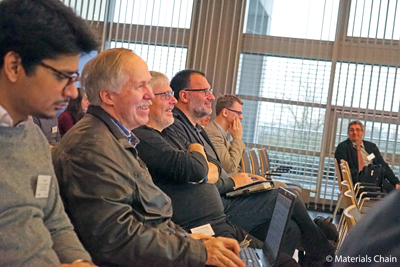 The core of the Materials Chain are its over 250 members. Highly-esteemed professors, established research group leaders and aspiring postdoctoral junior scientists from the diverse sub-disciplines of materials science at the three university locations and associated institutions meet in the Materials Chain melting pot and bundle their expertise to excell in materials research.
Below, you can either scroll through the complete list of Materials Chain members or use the A-Z menu to reach the personal website of a particular member to learn more about his or her métier, affiliation, project association and publication output.
Search:
Filter:
Anders, Frithjof B.

TU Dortmund University

Andronescu, Corina

University of Duisburg-Essen

Apfel, Ulf-Peter

Ruhr-Universität Bochum

Appel, Tamara

Dortmund University of Applied Sciences and Arts

Aßmann, Marc-Alexander

TU Dortmund University

Atakan, Burak

University of Duisburg-Essen

Awakowicz, Peter

Ruhr-Universität Bochum

Bacher, Gerd

University of Duisburg-Essen

Balzani, Daniel

Ruhr-Universität Bochum

Barcikowski, Stephan

University of Duisburg-Essen

Bartel, Thorsten

TU Dortmund University

Barthold, Franz-Joseph

TU Dortmund University

Bartsch, Marion

Ruhr-Universität Bochum/German Aerospace Center DLR

Bathen, Dieter

University of Duisburg-Essen

Bayer, Manfred

TU Dortmund University

Behler, Jörg

Ruhr-Universität Bochum

Benson, Niels Jon

University of Duisburg-Essen

Betz, Markus

TU Dortmund University

Bickendorf, Jobst

TU Dortmund University

Biermann, Dirk

TU Dortmund University

Birk, Carolin

University of Duisburg-Essen

Bluhm, Joachim Willi Otto

University of Duisburg-Essen

Bock, Claudia

Ruhr-Universität Bochum

Böhmer, Roland

TU Dortmund University

Böhmer, Anna

Ruhr-Universiät Bochum

Borchardt, Lars

Ruhr-Universität Bochum

Botti, Silvana

Ruhr-Universität Bochum

Bovensiepen, Uwe

University of Duisburg-Essen

Brands, Dominik

University of Duisburg-Essen

Breitenbücher, Rolf

Ruhr-Universität Bochum

Brillert, Dieter

University of Duisburg-Essen

Brümmer, Andreas

TU Dortmund University

Chakraborty, Sumit

Ruhr-Universität Bochum

Cinchetti, Mirko

TU Dortmund University

Clason, Christian

University of Duisburg-Essen

Clausmeyer, Till

TU Dortmund University

Debus, Jörg

TU Dortmund University

Dehm, Gerhard

Max-Planck-Institut für Eisenforschung

Deike, Rüdiger

University of Duisburg-Essen

Detmann, Bettina

University of Duisburg-Essen

Dette, Holger

Ruhr-Universität Bochum

Devi, Anjana

Ruhr-Universität Bochum

Drautz, Ralf

Ruhr-Universität Bochum

Dreier, Thomas

University of Duisburg-Essen

Eggeler, Gunther

Ruhr-Universität Bochum

el Moctar, Bettar Ould

University of Duisburg-Essen

Epple, Matthias

University of Duisburg-Essen

Eremin, Ilya

Ruhr-Universität Bochum

Erni, Daniel

University of Duisburg-Essen

Esser, Norbert

Leibniz-Institut für Analytische Wissenschaften – ISAS – e.V.

Exner, Kai

University of Duisburg-Essen

Farle, Michael

University of Duisburg-Essen

Fattakhova-Rohlfing, Dina

University of Duisburg-Essen/Forschungszentrum Jülich

Felderhoff, Michael

Max-Planck-Institut für Kohlenforschung

Frenzel, Jan

Ruhr-Universität Bochum

Fries, Suzana G.

Ruhr-Universität Bochum

Galstyan, Anzhela

University of Duisburg-Essen

Gebauer, Julia Susanne

University of Duisburg-Essen

Geller, Marius

Dortmund University of Applied Sciences and Arts

Geller, Martin Paul

University of Duisburg-Essen

Giese, Michael

University of Duisburg-Essen

Grabmaier, Anton

University of Duisburg-Essen

Greilich, Alex

TU Dortmund University

Grünebohm, Anna

Ruhr-Universität Bochum

Gruner, Markus Ernst

University of Duisburg-Essen

Gurevich, Evgeny L.

University of Applied Science Münster

Gutmann, Jochen Stefan

University of Duisburg-Essen

Hackl, Klaus

Ruhr-Universität Bochum

Hägele, Daniel

Ruhr-Universität Bochum

Hammerschmidt, Thomas

Ruhr-Universität Bochum

Hanke, Stefanie

University of Duisburg-Essen

Hartmaier, Alexander

Ruhr-Universität Bochum

Hartmann, Nils

University of Duisburg-Essen

Hasselbrink, Eckart

University of Duisburg-Essen

Heinzel, Angelika Beate

University of Duisburg-Essen

Held, Christoph

TU Dortmund University

Henke, Sebastian

TU Dortmund University

Henke, Michael

TU Dortmund University and Fraunhofer IML

Hesterberg, Stefan

Dortmund University of Applied Sciences and Arts

Hickel, Tilmann

Max-Planck-Institut für Eisenforschung

Hoffmann, Martin

Ruhr-Universität Bochum

Hofmann, Martin R.

Ruhr-Universität Bochum

Horn-Von Hoegen, Michael

University of Duisburg-Essen

Hoster, Harry

University of Duisburg-Essen

Hövel, Heinz

TU Dortmund University

Hsu, Lan-Tien

Ruhr-Universität Bochum

Hülsbusch, Daniel

TU Dortmund University

Hutzenthaler, Martin

University of Duisburg-Essen

Jäger, Marcus

University of Duisburg-Essen

Janisch, Rebecca

Ruhr-Universität Bochum

Jansen, Georg

University of Duisburg-Essen

Kaiser, Thomas

University of Duisburg-Essen

Kasper, Tina

University of Duisburg-Essen

Kast, Stefan M.

TU Dortmund University

Katzenberg, Frank

TU Dortmund University

Kays, Rüdiger

TU Dortmund University

Kempf, Andreas Markus

University of Duisburg-Essen

Khan, Shaukat

TU Dortmund University

Kierfeld, Jan

TU Dortmund University

Kirchartz, Thomas

Forschungszentrum Jülich GmbH

Klawonn, Axel

University of Cologne

Kleszczynski, Stefan

University of Duisburg-Essen

Köhler, Ulrich

Ruhr-Universität Bochum

Kokozinski, Rainer

University of Duisburg-Essen

König, Jürgen

University of Duisburg-Essen

Kostka, Aleksander

Ruhr-Universität Bochum

Kowalczyk, Wojciech

University of Duisburg-Essen

Kratzer, Peter

University of Duisburg-Essen

Kreyssig, Andreas

Ruhr-Universität Bochum

Kruis, Einar

University of Duisburg-Essen

Kuhnt, Sonja

Dortmund University of Applied Sciences and Arts

Kümmell, Tilmar

University of Duisburg-Essen

Künne, Bernd

TU Dortmund University

Kunze, Ulrich

Ruhr-Universität Bochum

Kuzmin, Dmitri

TU Dortmund University

Laplanche, Guillaume

Ruhr-Universität Bochum

Lentz, Jonathan

Ruhr-Universität Bochum

Li, Yujiao

Ruhr-Universität Bochum

Li, Tong

Ruhr-Universität Bochum

Ligges, Manuel

University of Duisburg-Essen

Lorke, Axel

University of Duisburg-Essen

Ludwig, Alfred

Ruhr-Universität Bochum

Ludwig, Arne

Ruhr-Universität Bochum

Lupascu, Doru Constantin

University of Duisburg-Essen

Lysogorskiy, Yury

Ruhr-Universität Bochum

Macias Barrientos, Marina

TU Dortmund University

Marques, Miguel

Ruhr-Universität Bochum

Mauer, Georg

Forschungszentrum Jülich GmbH

Mayer, Christian

University of Duisburg-Essen

Mei, Bastian

Ruhr-Universität Bochum

Menzel, Andreas

TU Dortmund University

Mertin, Wolfgang

University of Duisburg-Essen

Meschke, Günther

Ruhr-Universität Bochum

Meyer, Christian

TU Dortmund University

Meyer zu Heringdorf, Frank Joachim

University of Duisburg-Essen

Morgenstern, Karina

Ruhr-Universität Bochum

Mosler, Jörn

TU Dortmund University

Mrovec, Matous

Ruhr-Universität Bochum

Muhler, Martin

Ruhr-Universität Bochum

Müller, Christine Hildegard

TU Dortmund University

Müller, Eckehard

Bochum University of Applied Sciences

Mussenbrock, Thomas

Ruhr-Universität Bochum

Neff, Patrizio

University of Duisburg-Essen

Nestorovic, Tamara

Ruhr-Universität Bochum

Neugebauer, Jörg

Max-Planck-Institut für Eisenforschung

Niemeyer, Jochen

University of Duisburg-Essen

Nienhaus, Hermann

University of Duisburg-Essen

Orlowsky, Jeanette

TU Dortmund University

Ostendorf, Andreas

Ruhr-Universität Bochum

Otto, Boris

TU Dortmund University

Paulus, Michael

TU Dortmund University

Pentcheva, Rossitza

University of Duisburg-Essen

Perau, Eugen

University of Duisburg-Essen

Pfetzing-Micklich, Janine

Ruhr-Universität Bochum

Posch, Peter N.

TU Dortmund University

Prost, Werner

University of Duisburg-Essen

Raabe, Dierk

Max-Planck-Institut für Eisenforschung

Rademacher, Andreas

TU Dortmund University

Rauh, Daniel

TU Dortmund University

Ricken, Tim

University of Stuttgart

Rogal, Jutta

New York University / Freie Universität Berlin

Röger, Matthias

TU Dortmund University

Rolfes, Ilona

Ruhr-Universität Bochum

Rösch, Arnd

University of Duisburg-Essen

Rosenhahn, Axel

Ruhr-Universität Bochum

Röttger, Arne

Bergische Universität Wuppertal

Saccà, Barbara

University of Duisburg-Essen

Sadowski, Gabriele

TU Dortmund University

Sangiovanni, Davide Giuseppe

Linköping University

Scherer, Viktor

Ruhr-Universität Bochum

Scherer, Michael

Ruhr-Universität Bochum

Schierning, Gabi

University of Duisburg-Essen

Schleberger, Marika

University of Duisburg-Essen

Schlücker, Sebastian

University of Duisburg-Essen

Schmechel, Roland

University of Duisburg-Essen

Schmid, Rochus

Ruhr-Universität Bochum

Schmid, Martina

University of Duisburg-Essen

Schmidt, Wolfgang

Max-Planck-Institut für Kohlenforschung

Schneider, Claus Michael

University of Duisburg-Essen

Schnellenbach-Held, Martina

University of Duisburg-Essen

Schrader, Thomas

University of Duisburg-Essen

Schramm, Dieter Hermann

University of Duisburg-Essen

Schreuer, Jürgen

Ruhr-Universität Bochum

Schröder, Jörg

University of Duisburg-Essen

Schuhmann, Wolfgang

Ruhr-Universität Bochum

Schultze, Thorsten

University of Duisburg-Essen

Schulz, Stephan

University of Duisburg-Essen

Schulz, Christof

University of Duisburg-Essen

Schüth, Ferdi

Max-Planck-Institut für Kohlenforschung

Schützhold, Ralf

University of Duisburg-Essen

Schwarz, Alexander

University of Duisburg-Essen

Schweizer, Ben

TU Dortmund University

Segets, Doris

University of Duisburg-Essen

Sehrt, Jan T.

Ruhr-Universität Bochum

Sengstock, Christina

Ruhr-Universität Bochum

Shchyglo, Oleg

Ruhr-Universität Bochum

Shvartsman, Vladimir

University of Duisburg-Essen

Sickmann, Albert

Leibniz-Institut für Analytische Wissenschaften – ISAS – e.V.

Sokolowski-Tinten, Klaus

University of Duisburg-Essen

Somnitz, Holger

University of Duisburg-Essen

Somsen, Christoph

Ruhr-Universität Bochum

Sothmann, Björn

University of Duisburg-Essen

Spohr, Eckhard

University of Duisburg-Essen

Starke, Gerhard

University of Duisburg-Essen

Stein, Christopher

University of Duisburg-Essen

Steinbach, Ingo

Ruhr-Universität Bochum

Sternemann, Christian

TU Dortmund University

Stöhr, Andreas

University of Duisburg-Essen

Stöllner, Thomas

Ruhr-Universität Bochum

Stranghöner, Natalie

University of Duisburg-Essen

Stricker, Markus

Ruhr-Universität Bochum

Sulpizi, Marialore

Ruhr-Universität Bochum

Sutmann, Godehard

Forschungszentrum Jülich, Ruhr-Universität Bochum

Tekkaya, A. Erman

TU Dortmund University

Thome, Pascal

Ruhr-Universiät Bochum

Thommes, Markus

TU Dortmund University

Tiller, Jörg

TU Dortmund University

Tillmann, Wolfgang

TU Dortmund University

Tolan, Metin

TU Dortmund University

Tschulik, Kristina

Ruhr-Universität Bochum

Turek, Stefan

TU Dortmund University

Tüysüz, Harun

Max-Planck-Institut für Kohlenforschung

Uhrig, Götz S.

TU Dortmund University

Ulbricht, Mathias

University of Duisburg-Essen

Vadalà, Miriana

University of Duisburg-Essen

Varnik, Fathollah

Ruhr-Universität Bochum

Vaßen, Robert

Forschungszentrum Jülich GmbH

Vogt, Holger

University of Duisburg-Essen/Fraunhofer-Institut für Mikroelektronische Schaltungen und Systeme IMS

von Keudell, Achim

Ruhr-Universität Bochum

Walther, Frank

TU Dortmund University

Wang, Hongcai

Ruhr-Universiät Bochum

Weber, Sebastian

Ruhr-Universität Bochum

Weberskirch, Ralf

TU Dortmund University

Weidenthaler, Claudia

Max-Planck-Institut für Kohlenforschung

Weihs, Claus

TU Dortmund University

Weimann, Nils

University of Duisburg-Essen

Weis, Torben

University of Duisburg-Essen

Wende, Heiko

University of Duisburg-Essen

Wieck, Andreas Dirk

Ruhr-Universität Bochum

Wiederkehr, Petra

TU Dortmund University

Wiedwald, Ulf

University of Duisburg-Essen

Wiggers, Hartmut

University of Duisburg-Essen

Willms, Ulrike

TU Dortmund University

Witt, Gerd

University of Duisburg-Essen

Wittmar, Alexandra

University of Duisburg-Essen

Wlokas, Irenäus

University of Duisburg-Essen

Woerner, Jeannette H. C.

TU Dortmund University

Wöhrl, Nicolas

University of Duisburg-Essen

Wojarski, Lukas

TU Dortmund University

Wolf, Dietrich E.

University of Duisburg-Essen

Xia, Wei

Ruhr-Universität Bochum

Zabel, Andreas

TU Dortmund University

Zielke, Reiner

TU Dortmund University