Digital reordering of the World
Research Project on chipless RFID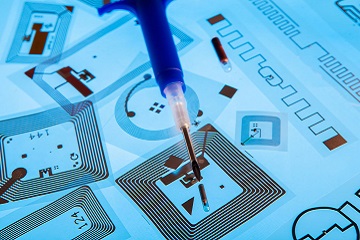 © andreydesign - stock.adobe.com
Whether in ID cards, vehicles, animals or sometimes even people, RFID technology ("Radio-Frequency Identification") often remains invisible, but is almost everywhere. Prices, names, dates of birth or biometric characteristics are stored on them. A new technology that makes it possible to produce RFID tags without chips and attach them inexpensively to almost any object is now the focus of a research project at the University of Paderborn and the UDE. They are investigating the opportunities and challenges of the technology.
The manufacturing costs of chipless, printable radio tags are significantly lower than variants with chips. The technology also makes it possible to individualize, identify and track all material goods. The technology thus offers potential for logistical and business organization processes, but on the other hand it harbors risks for privacy and data protection.
The two-year "UbiTag" research project started in July and is funded by the German Federal Ministry of Education and Research (BMBF) with around 300,000 euros. It is being run under the direction of Prof. Jutta Weber from the Institute of Media Studies at the University of Paderborn in collaboration with Materials Chain member Daniel Erni, UDE professor of General and Theoretical Electrical Engineering.