Minds and Machines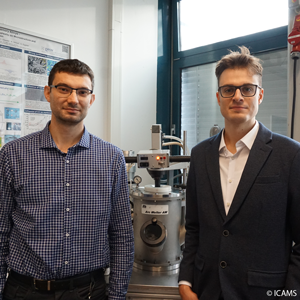 Scientists from mechanical engineering, civil engineering, chemistry, physics, electrical engineering, information technology, biological and chemical engineering, process engineering, geology, and life sciences contribute to our network. The interaction between researchers from diverse backgrounds and levels of experience from world leading scientists to early career research group leaders produces new synergies and facilitates interdisciplinary collaborations in research and academia among all three universities.
Ruhr-Universität Bochum, TU Dortmund University, the University of Duisburg-Essen, and their partner institutions maintain a multitude of research facilities that enjoy worldwide recognition – from atomic resolution characterization to high-performance computing. This combination of minds and machines renders the Materials Chain unique in the European research arena.
Network
The interactive network map below visualizes the density of collaborative research activities between the Materials Chain's members, based on co-authored journal articles published since 2010.

Discover more authors by zooming in and out, by selecting a colored dot, or by moving the map around.