Materials for Energy
Materials Chain Workshop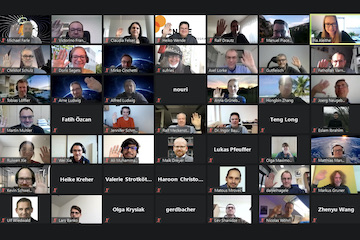 © Materials Chain
Back in February, the Materials Chain flagship program hosted its first digital workshop "Materials for Energy". We took a look at materials science - at the UA Ruhr and beyond - that focuses on the great challenge to provide our world with more efficient and sustainable energy. As novel materials play a key role for enabling new energy technologies, the fast and efficient discovery and development of novel materials is critical for sustainable future energy.
Over 150 registered participants listened to 18 talks from UA Ruhr materials researchers, and national and international guests from industry and academia and brought the workshop alive by making good use of the online chat and raise hand functions during the vivid discussion times.
In seven sessions, the workshop provided insights from the various key research topics within the UA Ruhr materials research, from magnetic and non-magnetic materials for physical and chemical energy conversion, metals and alloys via data-driven and combinatorial materials discovery to processing and plasma technology.
The workshop closed with an open discussion on future pathways for materials research concerned with sustainable energy. Both the talks and discussion provided impetus for the MCIC 2021 conference, which will take place in November 2021. Planning for MCIC 2021 is currently under way and further information will be made available to you as soon as possible!